Madeline Magee
Team:
steven ashford
austin Hampton
Josholynn Hunter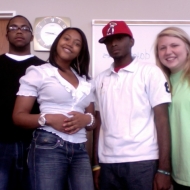 Through this experience we want to explore different careers. Also, as a team we want to learn from each other and learn about one another. From the people we interview we want to learn how they got where they are today. Therefore, we want to know how they got started and how they decided on their career. Most importantly the advice that they will give us will hopefully inspire us to find the career for each one of us in the group.
Class:
Career Planning
Educator:
Caragh Boyles
Home Base:
Mississippi State University Career Center
My part
Im excited about the interview and getting to know what another person does on a daily basis in the work force. I will write down detailed questions to ask the person that im interviewing.
Written on November 15, 2010 at 11:44am
Total Views: 358
Inspiring (0)
Helpful (0)
Entertaining (0)