Madeline Magee
Team:
steven ashford
austin Hampton
Josholynn Hunter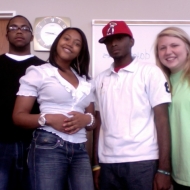 Through this experience we want to explore different careers. Also, as a team we want to learn from each other and learn about one another. From the people we interview we want to learn how they got where they are today. Therefore, we want to know how they got started and how they decided on their career. Most importantly the advice that they will give us will hopefully inspire us to find the career for each one of us in the group.
Class:
Career Planning
Educator:
Caragh Boyles
Home Base:
Mississippi State University Career Center
Team Polo
I really loved this experience. This was a great experience. I loved getting to know everyone in my group as on a personal level. I also enjoyed the interviews that we did. I enjoyed getting ready for the interviews for the roadtrip. I would advise anyone that what ever you put into the interview or roadtrip you will get out of it. It was fun meeting outside the classroom. We got to know more about each other than we would have ever known if it wasnt for the roadtrip nation.
Written on November 15, 2010 at 8:05pm
Total Views: 367
Inspiring (2)
Helpful (2)
Entertaining (2)